HOME & FAMILY FINANCE
Welcome to your one-stop financial information center!

---
Cost of Owning a Pet
July 12th, 2016
Before you run out the door to buy your first pet, consider how owning a pet will affect you financially. Most individuals don't take into account the potential expenses of owning a pet such as supplies, veterinary care, and other services when they purchase a pet.
The type of pet you own also plays a huge role in the annual cost of pet ownership. Owning a dog or cat will be almost double or triple the cost of owning a smaller animal such as a guinea pig or hamster. Take a look at this infographic to see, on average, how much you'll be spending on a pet and if it fits your budget.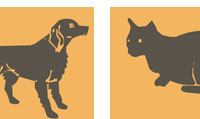 ---